How China's Quest for Dominance Is an All-Encompassing Threat
Xi Jinping seeks geopolitical, military, and economic superiority.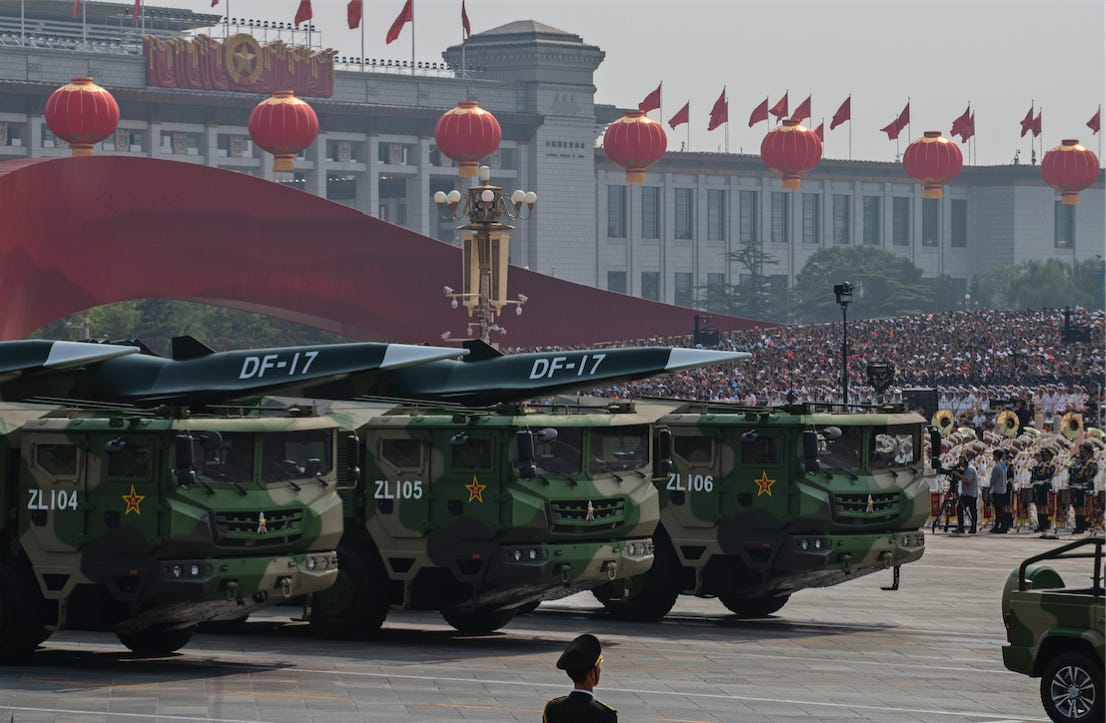 Years from now, we may look back at the first weeks of 2020 as a key juncture in the history of America's "great power competition" with China. On Feb. 6, the Center for Strategic and International Studies (CSIS) hosted the China Initiative Conference, during which America's top law enforcement and counterintelligence officials made their case to the public. The U.S. government is attempting to marshal a countrywide defense against China's spy war—a systemic initiative to undermine the American economy and national security.  
Over the course of nearly four hours at the CSIS headquarters in Washington, various speakers, including Attorney General William Barr and FBI Director Christopher Wray, explained the myriad ways Chinese subterfuge is eroding America's technological and military dominance. This isn't the work of a few spies. Xi Jinping and his lieutenants are employing multiple stratagems, from buying off professors at American universities, to stealing the personal identifying information for nearly half of all Americans, to surreptitiously acquiring intellectual property and trade secrets. 
None of these are hypothetical threats. The Department of Justice (DoJ) and FBI are investigating dozens of cases. During the first weeks of 2020 alone, the feds arrested one of America's top nanoscientists, added an alleged Chinese spy who studied at Boston University to America's Most Wanted list, and charged four Chinese military spies with plundering the databases of Equifax, the consumer credit reporting agency. 
We will delve into some of these cases a bit more below. But first, I'd like to draw attention to the presentation given by William Evanina, the director of the National Counterintelligence and Security Center (NCSC). This is a man at the center of America's response to China's spy war. And his warnings should be heeded.
China's quest for dominance.
Odds are that while you know who Barr and Wray are, you've never heard of Evanina or the NCSC. I knew little about the NCSC until last week. Quite frankly, I still don't know much about it—other than the information America's counter-spooks make public. But over the course of 20 minutes at the China Initiative Conference, the NCSC head made a compelling case that China's clandestine activities pose a unique set of threats and challenges. Evanina issued a "call to arms," one that he hopes American citizens, universities and corporations will answer, because a "whole of society approach" is necessary for "defending the values of America" and ensuring the country's "economic security." 
According to Evanina, China's leader, Xi Jinping, has "one goal" and that is "to be the global leader geopolitically, militarily and economically." Xi and his Communist party "will stop at nothing to get there." 
China's quest for dominance isn't limited to the military sphere, or sensitive weaponry. Consider a few of the examples Evanina highlighted—with some additional background facts from my own research.
China's growing economic might. 
The tectonic plates underneath the world economy have shifted dramatically in the past two decades. Before we proceed, though, here's a note of caution. Much of the Chinese economy and society exists in a black box and a healthy dose of skepticism is in order when evaluating any statistics reported by Xi Jinping's officials. In 2004, according to a list compiled by Forbes, seven of the world's ten largest companies were American. None of them were Chinese. As of 2019, five of the 10 ten largest companies were Chinese, including three of the top four. Only four of the top 10 were American. This is a stunning reversal in the relative positions of America's and China's economic powerhouses. 
This trajectory gets only more worrisome when you consider, as Evanina pointed out, that the Chinese government dominates business. There is no dividing line between private and public interests in China, as there is inside the U.S. Therefore, 12 of the top 15 businesses in China are owned or largely controlled by the Chinese government. No significant business is allowed to operate completely outside of the regime's purview, as Chinese laws mandate that all institutions cooperate with the national security state. The Chinese have fused military and civilian interests in a manner that is entirely unfamiliar to the American way of life. And this fusion extends to the financial sector, as the government controls banking. 
Therefore, China's economic growth isn't simply a matter of power shifting to a new, more innovative and risk-taking set of private actors. To the contrary, China's economy is both controlled by, and directly benefits, its authoritarian regime. 
Smartphones. 
Chinese companies own nearly half (48.9 percent) of the global smartphone market share as of the third quarter of 2019. That is a stunning figure. The first smartphones weren't introduced until the summer of 2007, when Apple launched the iPhone. A dozen years later, Chinese providers, operating under the auspices of the government, have gobbled up market share around the world. 
Evanina noted that the Chinese government isn't bound by the same privacy laws as the U.S. government. Therefore, the Chinese don't need a court order to break into those phones to monitor their citizens' contacts and messages. Nor does the Chinese government need a court order to spy on foreign businessmen using compromised smartphones. This is an obvious security liability for Chinese dissidents and foreigners, but it could potentially jeopardize the communications of others everywhere Chinese smartphones are sold. 
Stealing technology for electric cars.
Despite rapid (yet erratic) growth, electric vehicles (EV) account for only a small share of the American market. They are more popular in China, where the government has subsidized EVs and set regulatory policies (such as easier and quicker vehicle registrations for city dwellers) to favor EVs over more traditional autos. Chinese officials are betting EVs are the future, according to Evanina. They are forecasting that annual EV sales will account for 40 percent of the Chinese market by 2025.
Indeed, EVs are one of the core technologies included in the "Made in China 2025" strategic plan, which was announced by Chinese Premier Li Keqiang in 2015.
China is already the worldwide leader in EV sales, so it isn't entirely surprising to learn that Xi's regime thinks gas-free and hybrid cars will secure more of the market in the near future. Still, 2025 is right around the corner, and the entire Chinese automobile market is poised to decline for the third year in a row. Moreover, China has cut subsidies for EVs, which are often more expensive than alternatives. This may lead to a growth in hybrid sales, which are relatively less expensive, or have other effects. The Chinese market is also overcrowded. CSIS analysts estimate that there are more than 400 EV producers vying for sales in a market that isn't nearly big enough to support that many competitors, so some pruning will likely occur in the coming years. All of which is to say that forecasting sales is a tricky business. 
Still, Evanina highlighted some of the ways China is trying to extend its dominance within the EV market. The Chinese government has employed "non-traditional" collectors to steal trade secrets from Apple, Ford, and General Motors, dating all the way back to 2011. In addition, China has used joint ventures with Western companies to extend its access to technology and gain access to the American market. 
"How to Steal an Airplane." 
That was the title of one slide in Evanina's presentation detailing China's development of the C919 passenger jet. Drawing on research originally performed by the cybersecurity firm CrowdStrike, the slide documented how China acquired many of the parts necessary to build a passenger airliner. The Chinese used hackers, spies and "legitimate partnerships." 
The Chinese government allegedly directed the theft of aviation data and technologies used for wings, landing gear, engine components, weather radar, and electricity systems, among other essential components of an airliner. The Chinese government wants the Commercial Aircraft Corporation of China (COMAC) to compete with the global industry leaders, Airbus and Boeing, by selling the C919 for a fraction of the price of their competitive jets. COMAC can afford to charge a much lower price, in part, because it hasn't had to incur the same level of research and development (R&D) expenditures as its Western competitors. 
Thus far, Evanina explained, the C919 is still having technical difficulties, which limit its ability to gain traction in the market. But China's goal is to undercut Western companies in the marketplace with their own aviation know-how.   
China's corporate social credit system. 
The Chinese government is implementing an Orwellian social credit system in which citizens are scored based on their behaviors and face real consequences if their tallies lag behind. Bad scores can even lead to public shaming on the local television broadcast for something as simple as jaywalking. Of course, this authoritarian control mechanism is spooky. But it isn't just an inward-facing control mechanism. 
In 2018, as Evanina pointed out, the Chinese government sent warnings to dozens of foreign airlines (including Delta, United, and American) demanding that their websites refer to Taiwan as part of China. If they refused, these companies would "suffer negative social credit ratings." Evanina added: "Numerous American companies complied." This is just one example of how American businesses are forced to compromise in order to access China's massive market. 
China's social credit system increasingly relies on artificial intelligence (AI) to monitor the citizenry. It is no wonder, therefore, that the government wants to "control" AI to the extent it can. "Artificial intelligence is a vital driving force for a new round of technological revolution and industrial transformation," Xi told the Chinese Politburo on Oct. 31, 2018. "China must control artificial intelligence and ensure it is securely kept in our own hands."
China's "Thousand Talents Plan."
Listening to Evanina speak at CSIS you could tell this is a man who feels his Americanism in his bones—an excellent trait for an official responsible for ferreting out turncoats and other foreign agents. He spoke of defending the American and Western "ethos and culture," as well as the "values and norms of the democratic world that we live in." That vision is under threat today once again. 
In the postmodern, post-American world of the intelligentsia, such overt Americanism is at best quaint. Which is where China's "Thousand Talents Plan" comes in. China has taken advantage of America's permissive attitude toward foreign entanglements to recruit scientists and other leading thinkers at universities—men and women who can help Xi accomplish his great leap forward in terms of both technology and power. Moreover, some Chinese researchers are studying on American campuses in service of Xi's authoritarian designs, and not as part of some good faith exchange of ideas. 
Of course, the Chinese government bristles at this accusation, claiming it is racist. Evanina effectively rebutted this charge, arguing that the U.S. government's concerns are "fact-based," not racially motivated. He pointed to recent cases involving American academics who lied about their work for the "Thousand Talents Plan." 
One of them is Dr. Charles Lieber. By all accounts, Dr. Lieber is one of America's top chemists—a leading nanoscientist with the type of talent that generated buzz about a possible Nobel prize. His skills, knowledge, and accomplishments earned him the prestigious chair of Harvard University's Department of Chemistry and Chemical Biology. A prolific author (his website lists more than 400 publications since 1984) and entrepreneur, the 60-year-old Dr. Lieber had made it in life, running a research group at Harvard that was amply funded. The Department of Defense (DOD) and National Institutes of Health (NIH) granted his eponymous effort more than $15,000,000 since 2008. As a recipient of that federal grant money, Lieber was required to disclose any "significant foreign financial conflicts of interest." According to the Department of Justice, however, he failed to comply. 
Since 2011, Dr. Lieber has allegedly led something of a double research life, working as a "Strategic Scientist" for China's Wuhan University of Technology (WUT) and as a "contractual participant in China's Thousand Talents Plan." The latter work earned him a handsome sum of "$50,000 per month," as well as "living expenses" amounting to $158,000 (presumably per year) and another "$1.5 million to establish a research lab at WUT." Lieber earned these fees by allegedly extending WUT's influence and connections throughout the scientific community, "cultivating young teachers and Ph.D. students, organizing international conference[s], applying for patents and publishing articles in the name of" WUT. Lieber allegedly misled Harvard, and by extension the NIH, about his work for the Chinese. 
On Jan. 28, the FBI arrested Dr. Lieber, charging him with lying about his Chinese ties. 
In the aftermath of Lieber's arrest, Harvard's dean of science, Christopher W. Stubbs told The Harvard Crimson that the university was "limited" in its ability to track such nefarious connections. Stubbs explained "the challenge that we face is the relationship between the government, the military, and institutions of higher education in China is structured differently than it is in this country." 
That is the same warning America's top law enforcement and counterintelligence officials made at the CSIS event last week. 
Dr. Lieber isn't the first academic to be charged with lying about his participation in China's "Thousand Talents Plan." Nor, in all likelihood, will he be the last. 
In May 2019, the FBI arrested Turab Lookman, then 67, charging him with lying about his role in China's brain drain scheme. In late January, Lookman, a former scientist at the Los Alamos National Laboratory, pleaded guilty to lying to a counterintelligence investigator about his participation in the same program. A native of India, Lookman became a naturalized U.S. citizen in 2008. But after his arrest, some accounts indicated that he may be a citizen of as many as four nations. Prosecutors alleged that he had access to sensitive nuclear secrets, though his defense attorney accused the government of exaggerating its case. 
Late last year, the H. Lee Moffitt Cancer Center & Research Institute in Florida was ensnared in controversy after "compliance violations" were discovered. According to the Tampa Bay Times, which first reported the story, some of the institute's employees were recruited into the "Thousand Talents Plan," causing a perceived conflict of interest. The institute's CEO and others were forced to resign as a result. The Wall Street Journal reported last month that Texas A&M discovered "more than 100" of it faculty members "were involved with a Chinese talent-recruitment program," but "only five had disclosed their participation."
There are likely still more revelations to come from America's universities and colleges. 
As the New York Times reported, the National Institutes of Health (NIH), acting on information from the FBI, "sent 18,000 letters" in 2018 urging administrators who oversee government grants to be vigilant." As a result, "[s]eventy-one institutions, including many of the most prestigious medical schools in the United States, are now investigating 180 individual cases involving potential theft of intellectual property." 
The FBI has evidently sent universities a written warning of sorts, too. You can read the FBI's "China: The Risk to Academia" on Penn State's website.  
Evanina explained that the threat doesn't just come from Americans looking to cash in on China's largesse. Xi has instructed Chinese patriots to study abroad while serving his regime. 
On Jan. 28, a federal arrest warrant was issued for Yanqing Ye, a lieutenant in the People's Liberation Army (PLA) who allegedly hid her military career from American authorities while studying at Boston University's Department of Physics, Chemistry, and Biomedical Engineering. Ye portrayed herself as a "student," and did not tell immigration officials that she worked for the Chinese Communist Party's (CCP) National University of Defense Technology (NUDT), "a top military academy" in China, according to the Department of Justice. Ye returned to China, but she is now one of the FBI's Most Wanted, as she stands accused of serving the PLA while attending BU from October 2017 to April 2019. During that timeframe she allegedly completed "numerous assignments" on behalf of the PLA, including "assessing United States military websites," and sending United States documents and information to China.
Spies and citizens vs. spies.
The spy world is often romanticized in works of fiction, with super spies competing with one another for supremacy. But the granular details of China's campaign of espionage against the U.S. are hardly romantic. And as Evanina stressed, U.S. spies can't tackle the Chinese threat alone. Xi Jinping's campaign is aimed at multiple layers of American society. To emphasize the cost to American citizens, Evanina cited an estimate indicating that the "theft of trade secrets, counterfeit goods and pirated software costs our nation between $225 and $600 billion a year," or about $4,000 to $6,000 per American family annually. The FBI uses the same statistic in its memo to academia.   
Evanina also reminded his audience that U.S. military officials have already warned that their supply chains are likely compromised by the Chinese. "The systems the U.S. relies upon to mobilize, deploy, and sustain forces have been extensively targeted by potential adversaries, and compromised to such extent that their reliability is questionable," the Cybersecurity Readiness Review prepared for the secretary of the Navy in March 2019 reads. That same report warned that America's military advantages had eroded alongside a "growing decline in [America's] economic advantage."
It's a warning the NCSC head has sought to amplify. Evanina told the audience at CSIS that Americans have "have to look at economic security as part of national security." The question is: Are Americans listening? 
Photograph of Chinese rocket launchers at a parade to celebrate the 70th anniversary of the People's Republic of China at Tiananmen Square by Kevin Frayer/Getty Images.